TAG CYCLE
Overview
Define custom Tag cycles tied to a keyboard shortcut!
Usage
This extension is configurable via the roam/js/tag-cycle page.
For every cycle you want, make a block denoting the keyboard shortcut that will trigger that cycle. Then as children of that block, create one block for each text in the cycle.
Now when you're in a given block, the keyboard shortcut will replace text in your block based on the cycle you defined!
The format of a keyboard shortcut is deliminated by +. The following modifiers are supported:
Additionally, could use "SHIFT", but it should added after the modifier. The Key pressed is the last component.
This is what it would look like for Roam's native TODO/DONE cycle:
Here is what I use for my project tracking: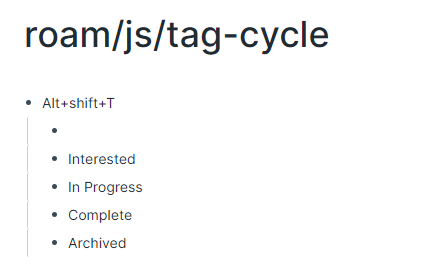 Note that this means entering an empty block will clear the previous element, and append the next element when no other element is found. Blank bullets only append a text to the block when it is a part of only **one** keystroke.
By default, empty blocks will cycle to a [[]] tag. To use a #[[]] tag instead, add 'HASH' to the end of the keyboard shortcut like this:
If instead of tags, you would like to cycle through raw text, add RAW to the end of the shortcut. Like this:
By default, empty blocks will cycle the next entry to the end of the block. To prepend to the block instead, add FRONT to the end of the shortcut. Like this:
Front could combine with some of the other modifiers above. So to fully reproduce Roam's native tag cycle, it would look like this:
If you change the blocks on the configuration page, the changes will take effect as soon as you navigate away from the blocks.
Demo